You Got This!

The Illustrated, Grab-and-Do Guide for a Healthy, Happy Pregnancy and Childbirth
The new must-have pregnancy resource!
Honestly, getting pregnant can be complex and stressful.
The Simplest Pregnancy Book
makes pregnancy easier, reduces the stress, and helps you gain the confidence to have a healthy, happy pregnancy, so you can spend more time enjoying what is one of the most magical experiences of your life.
The whole truth
Straight forward—no BS—information provides an honest picture of pregnancy, sharing the joys and the challenges.
the most illustrated guide
800+ instructive and entertaining illustrations make learning fast and easier.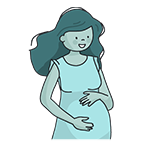 pregnancy basics made easier
All the pregnancy fundamentals distilled to their essentials makes finding solutions to common pregnancy question quick and simple.
Best of the best from experts
The most up-to-date and modern knowledge from OB-GYNs, midwives, doulas, nurses, surrogates and pregnancy experts.
The must-haves lists
The essential list of products, provides a handy checklist for everything you will need for the first trimester, second trimester, third trimester, labor, delivery, recovery and preparing the nursery.
Mommy Hacks
Mom's simple work-arounds and practical tips for everyday pregnancy challenges and issues.
Covering all the essentials and more
Prenatal Testing
Pregnancy Symptoms
Prenatal Appointments
Each Trimester
Healthy Eating
Pregnancy Milestones
Pregnancy Exercises
Pain Management
Birthing Options
Labor
Delivery
Postpartum Recovery
Our Story
Simplicity is Everything
Born out of necessity — to find the simple, practical, solutions and information for parenting — has proven to resonate with today's parents-to-be.